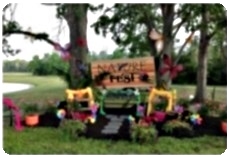 Total Event Professionals
"It is imperative to have quality, dependable event services support when you host events of any size, but it is especially important for the large-scale public festivals that Production & Event Services has been helping us with for the last three years.
The attention to detail is impressive, and they work side-by-side with me and my team to make the events successful. Afterwards, we hold extensive meetings to evaluate the events and are constantly looking for ways to improve, but also looking to isolate what is working so we know not to try and fix what isn´t broken.
They are a great team to work with and make our events here in Bridgeland really shine!"
Lona Shipp, Marketing Manager
Howard Hughes Corporation
Cypress, Texas
---
"Our company has had the pleasure of working with Cindy and Production & Event Services for many years, both as a client and designer for events. We have found them to be amazing and absolutely the best vendor to work with. No job is too small or too big and treated with the same care. Punctual, professional and perfectionist is all we can say about Cindy and her staff!! And they always go above and beyond to help in any way."
Linda McIngvale
A Memorable Event
Gallery Furniture
Westside Tennis & Fitness
Houston, Texas
---
"Production & Event Services is one of those companies we can always turn to when we need help on an event. We have worked with Cindy on many successful events and her great product and amazing customer service fits right in with the way we do things here at Texas Events. She is a great friend and someone we can count on for years to come."
Matt Sanders, Production Manager
Texas Events, Inc. (TXE Productions)
Pearland, Texas